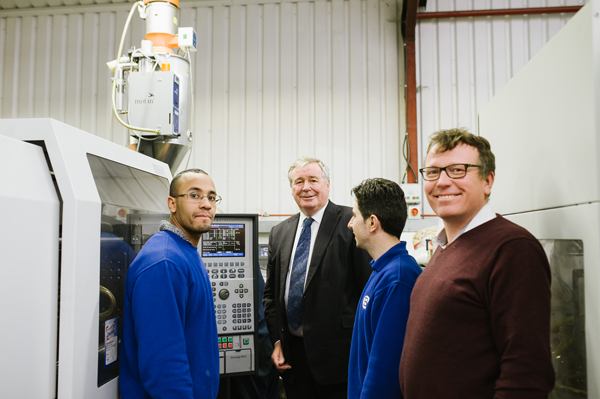 Dorking based Broanmain Plastics will be celebrating 60 years in business later this year and recently welcomed its local MP, Sir Paul Beresford, to its Surrey factory for a site visit.
Wilf and Jo Davis head the family run business, which machines thermoplastic and thermosetting plastics for a worldwide customer base and showed Sir Paul machinery that has the capacity to produce up to 250 tonnes of moulded plastic annually. These products are typically used in industries as varied as aerospace, railway signalling and temperature control systems.
Recently certified as a living wage accredited employer, Broanmain is committed to the training and development of its entire staff and provides jobs for the wider local community. Sir Paul Beresford has been the MP for Mole Valley since 1997 and was knighted in 1990 for his services to inner city rehabilitation.
Broanmain took the opportunity of Sir Paul's visit, on January 15th, to raise various concerns, including additional government support for the provision of the Living Wage Foundation living wage and increased investment and funding from the high street banks.
Speaking at the visit, Managing Director Wilf Davis told Sir Paul: "We believe that the banks still need to loosen their grip when it comes to investing and that they need to spend more time looking at how successful a business is, rather than just making a judgment based on number-crunching alone."
Broanmain currently employs over 20 people at its factory in Dorking.
"We provide NVQ Level 2 training to all our employees," said Wilf Davis, "whilst offering more specified training to those employees who wish to progress further."
The company is planning further events throughout the year as part of its 60th birthday celebrations.