TECHNICAL PLASTIC MOULDERS Your trusted plastics partner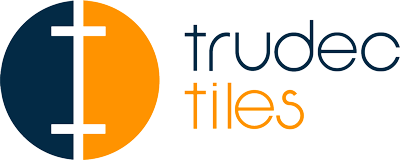 Trudec Floor Tiles are Broanmain's range of resilient PVC flooring.
The applications for this flooring system are unlimited and are often used in residential construction, commercial facilities and factories, as well as industrial and automotive settings, hospitals, schools and even gyms.
Made from polyvinyl chloride (PVC) exclusively by Broanmain Plastics, safety, hygiene, sustainability and resilience are all critical factors that are driving commercial customers towards resilient rubber floor coverings – the system allows customers to personalise an entire floor space with very little preparation being required.
The tiles are available in multiple colours and textures, allowing risk managers and commercial designers to clearly specify designated work zones and walkways to meet their COSHH and localised regulatory workspace requirements. Colour zones can also be used to delineate collaborative workspaces and even add sections of bright colour to raise workforce energy levels and increase productivity.
Advances in moulding and print technologies deliver visual brand aesthetics, workforce notices and clear demarcation lines. As a result of the interlocking tiles, these can be swapped out, moved and interchanged without having to replace an entire floor.
Sustainable and maintainable
Sustainability is a top consideration in commercial floor coverings. Rubber not only offers greater durability than paint or thin floor tiles for heavy footfall areas. Being able to stagger the interlock between tiles also means that the systems are designed to withstand constant movement of heavy roiling loads by forklift trucks and other industrial vehicles. Should a high traffic area incur significant wear and tear, individual tiles can be swapped out and replaced with minimal investment and disruption to business.
Comfort and reducing the impact of sound and vibrations in industrial settings is another important factor. Rubber flooring can absorb some sound and mitigate many of the acoustic challenges caused by machinery that are prevalent in hard floor environments such as factories.
Tile sizes: 500x500mm, 500x400mm, 400x400mmLine
Marker: 500x100mm
Edging Ramp:500x125mm
Corner Ramp: 125x125mm
Thickness: 7mm
For more information please contact
benbayly@broanmain.co.uk, or info@tileplans.com
tel 020 3397 2997
WHATEVER YOU NEED MADE, BROANMAIN MAKES IT SMARTER
Rather than flood you with communications, sign up for our newsletter giving you the latest Broanmain updates straight to your inbox. Follow Jo Davis on LinkedIn for more regular project news and industry insight.