04 Jun 2018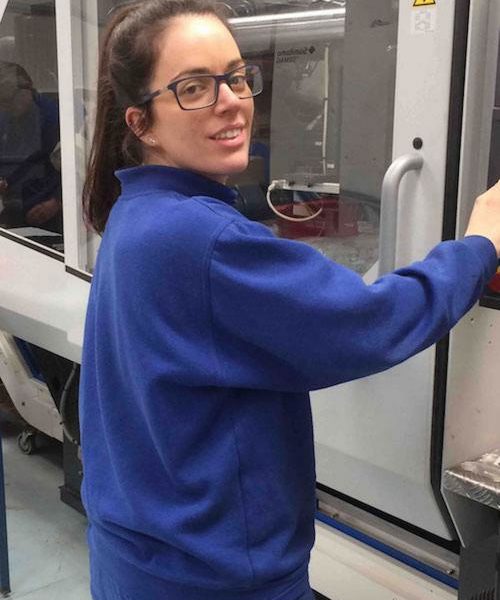 Moulding a Career: Part 4
Leanne Taylor
Entry 4: Thriving on challenges
As supervisor of the injection moulding department at Broanmain Plastics, Maria Lopez describes the day-to-day challenges as the most enjoyable aspect of her job. "Being able to quickly isolate a problem and solve it using my science and analytical skills is where I really feel like I add value," she explained.
Maria combines the knowledge acquired during education with the practical training she has undertaken at the Sumitomo (SHI) Demag Academy. "On the job I've learned about the impact of cycle times, injection pressure, melt temperatures and how these basic parameters impact part quality. But I also enjoy applying my knowledge of materials, their chemical composition and molecular structure gained from studying chemical engineering."
The ability to apply scientific knowledge tends to be the exception rather than the rule in plastics moulding, according to Broanmain's operations director Jo Davis. "Many UK moulding companies seek experienced people and this can make recruitment and retention of people when there's such a looming skills gaps quite challenging," she explained.
"In Maria's case we saw an opportunity to appoint a person that fit our culture and who had the scientific understanding and enthusiasm to optimise processing stability and achieve tangible business improvements."
Maria added: "What science gives is greater certainty when making processing adjustments. By applying scientific calculations, I instinctively know what the outcome would be and how plastic materials might behave in the mould. This helps to eliminate trial and error, which reduces the time it takes to set the machine for a new job. This in turn optimises productivity, which is evidenced in the machine output and improvements in part quality.
"Playing my part in making these improvements is incredibly satisfying," added Maria.
In order to better understand the five different variables that control and optimise the moulding process, in November 2017, Maria returned to the Sumitomo (SHI) Demag Academy. Building on the Process Technician module, the three-day Trouble Shooting (TShoot) course gave Maria the ability to systematically deduce the entire gambit of injection moulding faults that may occur and how to spot and resolve poorly set process parameters.
"There was a great deal of practical work and lots of interactions with delegates from other companies. We worked as a team diagnosing process faults and then had to present our findings to the group. Other people attending the course were far more experienced than me. But it didn't faze me and I never felt less than any of them. It's great to be able to share best practice and talk things through with people who work for larger organisations and understand how they approach challenges. It makes me feel really competent and confident in my skills after attending these courses."
Coming up in Entry 5: Passing PTech test with flying colours
Caption: Thanks to a three-day Trouble Shooting course, Maria has the ability to systematically deduce the entire gambit of injection moulding faults that may occur.